Physiotherapy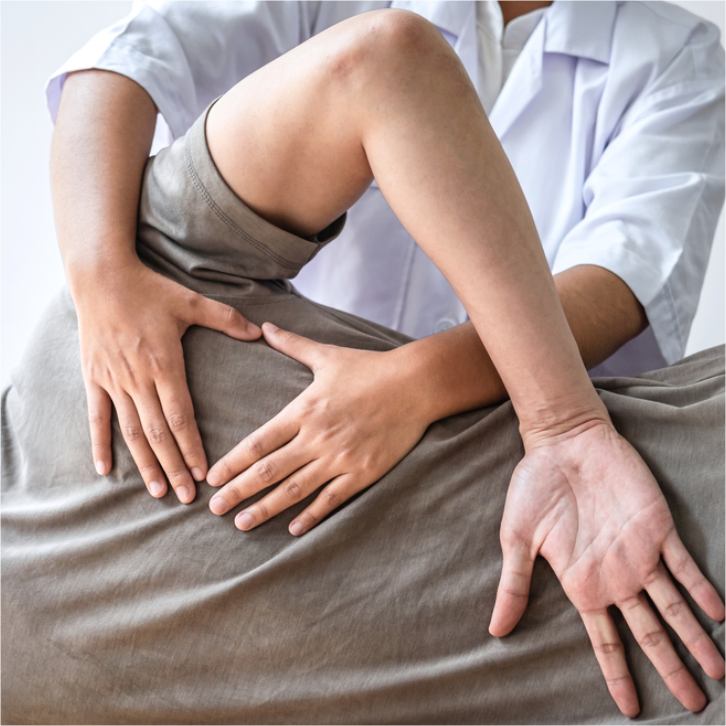 Physiotherapy
After an injury, disease, or handicap, physiotherapy aids in the restoration of mobility and normalcy in a patient's life. A physiotherapy session includes manual therapy, as well as advice and counseling for the patient. Physiotherapy can help a patient of any age manage pain and avoid injuries or diseases in the future. In short, physiotherapy helps a patient develop and
maximize physical strength, function, and overall health while also addressing the underlying difficulties.
What types of Physiotherapy Treatments are available at a Physiotherapy
Treatment center in Delhi?
Types of Physiotherapy include:
Neurological: When there is a loss of balance, coordination, and equilibrium, excessive muscle weakness, loss of function, muscle spasms, or a decrease in sensitivity, this therapy is used. The major goal of neurological physiotherapy is to restore physical mobility and treat functional impairments caused by nervous system disorders such as stroke, brain traumas, spinal cord injuries, Parkinson's disease, and so on.
Orthopaedic: Orthopaedic therapy's major goal is to cure problems of the musculoskeletal system, which includes repairing muscles, bones, ligaments,
joints, and tendons. Pain is relieved, mobilisation is increased, and any bone injuries are corrected with this therapy.
Cardiopulmonary: This treatment is given to people who have had any cardiopulmonary problems, such as chronic obstructive pulmonary disease or cardiac arrest. The primary goal of this type of physiotherapy is to inform or educate patients about various exercises and strategies that can help them enhance their quality of life.
Paediatric: This is a type of physiotherapy that is used to treat acute injuries in children that occur shortly after birth and are caused by genetic abnormalities or a delay in physical growth. Physiotherapy involves a variety of exercises aimed at strengthening the damaged body part and improving the movement of the various body parts.
Geriatric: This type of physiotherapy addresses age-related issues such as osteoporosis and arthritis. Certain body motions are restricted to avoid pain, but patients are offered assistance and exercises to increase total mobility. Vestibular rehabilitation: The goal of vestibular treatment is to restore bodily balance, which is disrupted by an inner ear condition that causes vertigo and chronic dizziness. This therapy teaches the body to regain its balance and to strengthen the muscles.
What is the Procedure for Physiotherapy in Delhi?
A physiotherapist may use a range of treatments, depending on the severity of the injury and the specific problem being dealt. The most prevalent ones are: Manual
manipulation: Manual manipulation improves circulation, drains extra fluids from the body, and relieves overly tight muscles and spasms by moving the soft tissues and joints. Nerve stimulation using electrical
currents: Delivering controlled electric currents to the affected area helps to confine pain signals, preventing them from reaching the brain.
Acupuncture: This is an excellent approach to stimulate the central nervous system while also relieving pain and releasing tight muscles.
Demonstration: Teaching and exhibiting optimal movement patterns to the patient aids in their recovery on their own.
Functional testing: Functional testing is examining the patient's physical
motions in order to better determine his or her condition.
Who would benefit from Physiotherapy at Diyos Hospital?
Physiotherapy can help those who are suffering from the following conditions:
● If you've been wounded while playing
● If you've had chronic pain for a long time
● If you're pregnant, or if you've had surgery
● To avoid difficulties in the chest
● To keep thrombosis at bay and pressure sores at bay
● To avoid muscle atrophy and decreased joint mobility
What are some of the conditions that Physiotherapy can help with?
● COPD, myocardial infarction, and cystic fibrosis are examples of cardio-
pulmonary diseases which physiotherapy can help with
● Carpal tunnel syndrome (CTS) and trigger finger are two disorders that
require hand rehabilitation
● Rotator cuff tears, lower or upper back discomfort, and TMJ
● Spinal cord injuries, strokes, multiple sclerosis, Parkinson's disease, head
trauma, and vestibular dysfunction
● Children with Cerebral Palsy and other developmental issues
● Tennis elbow and other sports-related injuries
● Urinary incontinence
Duration of a Physiotherapy session at a Physiotherapy Hospital in Delhi
Physiotherapy sessions can take anywhere from 30 minutes to an hour at a Physiotherapy Hospital in Delhi, depending on the severity of the ailment. Some patients work longer shifts and receive professional assistance. The duration of physiotherapy is determined by the degree or intricacy of the ailment as well as the length of time required to heal the affected body part. The soft tissues often take 6-8 weeks to recover.
How long does it take for Physiotherapy to work?
Because the therapy time is not set, there is no precise response to this question. Healing takes varied amounts of time for different people. The length of therapy is determined by the severity of the sickness, the severity of the pain, motivation, perception, and the individual's healing rate.
What are the Physiotherapy side effects?
Side effects of physiotherapy include:
Pain: As you heal and recover, it's possible that your pain will worsen. Oral pain relievers may be used before a physical therapy session to alleviate such discomfort. Heat/cold therapy, as well as other topical treatments, may be effective.
Swelling: This is fairly frequent, and it occurs when the tissues, muscles, and ligaments are stretched to strengthen them. As a result, swelling and further pain may occur. Diyos Hospital is designed to provide the best degree of physiotherapy and rehabilitation care to patients and assist them in regaining their independence. Our physiotherapists are extremely knowledgeable and skilled, and they handle your treatment needs in a professional and caring manner. They work with patients to assist them reduce the physical and cognitive impacts of their disabilities so that they can achieve their full potential.
Other Services

Urology & Andrology


Orthopaedics Spine & Sports Surgery


ENT, Head & Neck


Neuro Science


Laparoscopy & General Surgery


Gynaecology


Internal Medicine & Critical Care


Oncology


Cosmetic Surgery


Physiotherapy

Get a Call Back