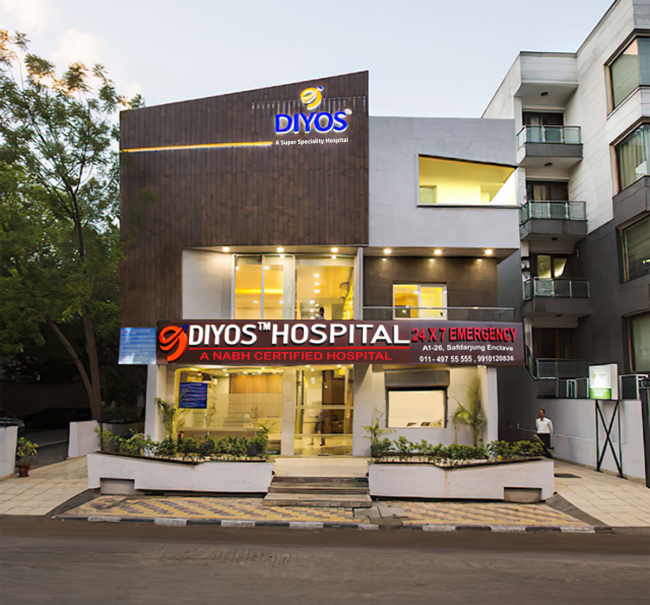 ABOUT DIYOS
Diyos Hospital is a unit of DMHC, NABH Certified Hospital situated in South Delhi, New Delhi, India. Established in the year 2017, Diyos Hospital runs with the objective of providing customized treatment with the focus on successful treatment with fastest recovery. The Hospital is a 26 bedded premium healthcare facility catering to both Indians and International patients.
The Hospital has an illustrious panel of Doctors who are the flag bearers of introducing new and innovative expert surgical treatment techniques in the country and Asian subcontinent.
The Hospital is well facilitated and houses a range of facilities which render a peaceful and delightful treatment experience to both the patient and attendants.
Diyos Hospital is primarily renowned worldwide for its department of Urology, Andrology (Sexology), ENT (EAR, NOSE & THROAT), Orthopedics & Spine, and Cosmetic & Reconstructive surgery, Gynecology and General / Laparoscopy Surgery Treatments.
The hospital has successfully treated more than 25,000 patients in both OPD and IPD till now.
Infrastructure And Facility
Diyos Hospital has best in class technology & equipments, to ensure world-class health care to all patients. Diyos Hospital (A Super Specialty Hospital), is one of the premier healthcare facility in South Delhi, India. The outpatient services is spread on ground floor with 26 inpatient beds spread on 1st and 2nd floors. The hospital is equipped with all diagnostic services, including pathological tests, state-of-the-art Andrology Lab, Digital X Ray, Ultrasound etc.
The hospital has state-of-the-art well equipped modular operation theatres with HEPA filters and Laminar Air Flow to ensure patient safety. All the Operation Theatres are fitted with best in class operating lights, anesthesia stations and advanced information management systems.
The Hospital is equipped with electronic security systems with integrated CCTVs spanning across the facility and fire management system.
The hospital premises is Wi-Fi enabled and has a Hospital Information System (HIS) system which is seemingly connected across outpatient, inpatient and diagnostic areas.
Efficacy In Treatment
Diyos Hospital has on panel the Best Urologists, Andrologists/Sexologists and General Surgeons. Most Surgeries done in our state of the art Operation Theaters while maintaining extreme clean room conditions. The equipment used for the treatment is of international standards and repute.
Vision:-
"To be the leaders in advance men's healthcare, dedicated to transforming and improving the lives of people"
Mission:-
To provide compassionate, high quality, accessible healthcare to the community by utilizing cutting edge technology and adopting finest healthcare standards.
Quality Policy:-
We aim to achieve highest level of quality and safety by engaging doctors, nurses and staff with patient and family members. A culture of continuous quality improvement is cultivated and encouraged.
THE PERFECT SPECIALISTS TEAM

DR. ABHISHEK BANSAL
Director
Orthopaedics, Spine & Sports Medicine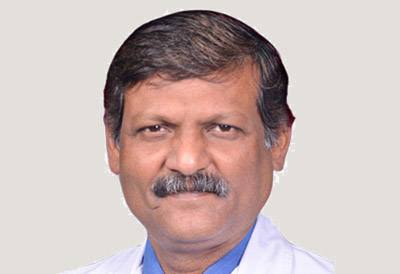 DR. R. L. NAYAK
Senior Consultant
Urology Department
DR. NAYEEM AHMAD SIDDIQUI
Senior Consultant
ENT, Head & Neck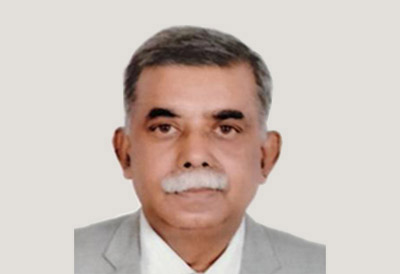 DR. AJIT SINHA
Senior Consultant
Laparoscopic Surgeon
Doctors' Talk – Real People, Real Stories

https://youtu.be/4dI5BvgQNPohttps://youtu.be/Va-i3XxhiQMhttps://youtu.be/LHKXofTZcpE